CHARLOTTE, NC – December 1, 2022 – DebtBook is proud to announce it has been selected as a 2022 winner of the FinTech/InsurTech category at the NC TECH Awards. Winners were recognized at the NC TECH Awards Gala on Tuesday, November 29, presented in conjunction with title sponsor Cherry Bekaert.
The NC TECH Awards is North Carolina's only statewide technology awards program, recognizing companies and individuals who have demonstrated growth, innovation and leadership. For more information on the selection process, categories, finalists, winners and the awards gala, visit www.nctech.org/awards.
DebtBook helps finance teams in local government, higher education, and healthcare manage their debt and leases in the cloud, driving efficiency, collaboration, transparency, and informed decision-making within their organizations. Built by the industry and for the industry, DebtBook enables organizations to easily implement new accounting standards, such as GASB-87 and GASB-96, and maintain ongoing compliance.
"Since 1995, the NC Tech Awards has honored excellence and innovation throughout North Carolina, representing the best and brightest," said Brooks Raiford, president and CEO of NC TECH. "As a winner, DebtBook has distinguished itself as a peer-leader and we are proud to recognize them as a 2022 NC Tech Awards winner."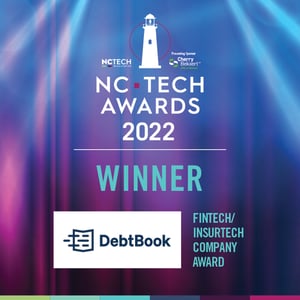 About NC TECH
NC TECH is a not-for-profit, membership-driven trade association and the primary voice of the technology industry in North Carolina. NC TECH's mission is to foster growth and champion innovation in North Carolina's tech sector, while providing a voice for the tech community. NC TECH's membership includes close to 600 member companies, organizations and institutions employing more than 200,000 workers in North Carolina. For more information, visit nctech.org.