The Modern Way to Manage Debt
DebtBook empowers financial teams with the tools they deserve to seamlessly manage debt. Consolidate all of your debt in an easy-to-use platform and access powerful tools for financial reporting, payment processing, and collaboration between internal and external teams.
Unlock Hassle-Free Debt Management
When it comes to debt, most people spend a lot of their time figuring out what they need to do and what information they'll require. DebtBook takes the guesswork out of the process, taking the stress out of compliance and providing you with the resources you need to do your job.

Manage All Your Debt in a Few Clicks
DebtBook puts everything you need for successful debt management in a single location. Ditch the spreadsheets and consolidate your information, set reminders, collaborate with partners, and spend the time you save focusing on more important work.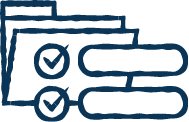 Organization
Keep all of your debt information in a single source of truth with DebtBook's intuitive, easy-to-navigate application.
Reminders
Say goodbye to anxiety from juggling calendar reminders and spreadsheet responsibilities. DebtBook lets you set consolidated reminders directly in the app.
Collaboration
DebtBook's cloud-based architecture makes it easy to work with the board, outside partners, banks, internal departments, and other resources.

Get a
Firsthand Look

at DebtBook

Ready to see what DebtBook can do for you? Let's set up a personal 30-minute demo. We'll walk you through every aspect of DebtBook, so you can see how we're changing the game for organizations like yours.

Start changing the way you work. Schedule a demo today!